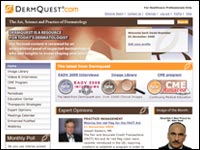 DermQuest
(over 22,000 images) - Provides an extensive array of resources for dermatologists including over 22,000 clinical images available to download for educational purposes and a clinical photosharing facility to share clinical images with colleagues.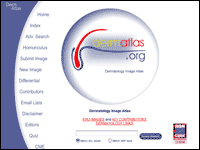 Dermatology Image Atlas
(over 9300 images)
- Search the Online Dermatology Atlas and select from the lists of diagnoses, categories of disease or body sites.The purpose of this WWW site is to enable health care professionals, parents, and patients to access high quality dermatology images for teaching purposes. Produced by John Hopkins University.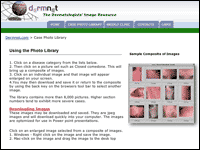 DermNet Case Photo Library
(over 8000 images)
- Well organized and easy to navigate, DermNet presents a large number of images and allows for their use in live lectures. High resolution images are available for publications upon request.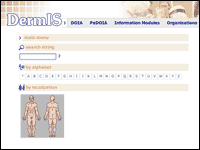 Dermatology Online Image Atlas -
DOAI: Dermatology Online Image Atlas
PeDOIA: Pediatric Dermatology Online Image Atlas


(over 6800 images)

- Search the database for dermatological diagnoses, browse by alphabetical listings, and also select the area of the body for images from that location.
A cooperation between the Dept. of Clinical Social Medicine (Univ. of Heidelberg) and the Dept. of Dermatology (Univ. of Erlangen). The database has recently been divided into two sections: DOIA & PeDOIA.
Dermatology Atlas
(over 5700 images)
- Brazilian based atlas with a simple frame-based interface - a list of all images on the left and the images appear on the right.
Hellenic Dermatological Atlas
(over 2300 images)
- Based in Greece, this atlas is searchable by category of disease, diagnoses, and contributor.
Atlas of Clinical Dermatology
(over 1690 images)
- Danish site featuring high resolution photos of Dr. Neils Velen organized in 9 subsections of dermatological diagnoses.
Iconotechque Numerique Atlas de Dermatologie
(over 600 images)
Dermatologie Tunisia Atlas of Dermatology
Dermatologic Image Database, at the University of Iowa
(over 440 images)
- Hosted by the University of Iowa
Oral Pathology Image Database

(over 290 images)
Dermatology Atlas at Loyola University
(over 230 images)
Pediatric Primary Care Dermatology Module, Nomenclature of Skin Lesions
(over 130 images)
- Hosted by the University of Wisconsin
Online Atlas of Dermatology and Rheumatology
(over 105 images)
- At the University of Padova
DermPathTutor - A Tutorial in Dermatologic Pathology
(over 100 images)
Catalog of Clinical Images - Images of the Skin
(over 100 images)
Skin Cancer and Benign Tumor Image Atlas
(over 80 images)
- Hosted by Loyola University