---
Research
THERE ARE THREE MAJOR AREAS of focused basic research: a) Research on the genetic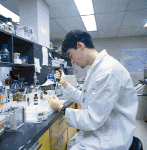 control of skin cancer is centred in laboratories at the BC Cancer Agency where the focus has been on oncogenes, suppressor genes, and their regulation (follow this link to obtain DullRazor, a skin imaging program developed at the BC Cancer Agency, Cancer Control Research Unit). b) Photobiology research is conducted in our laboratories at the BC Cancer Agency and Vancouver Hospital & Health Sciences Centre and in collaboration with Medical Physics. It includes studies on light propagation in the skin, autofluorescence, sunscreen testing, laser therapeutics, and photodynamic therapy. c) Membrane biophysics and liposome technology research is conducted in our laboratory on the university campus, and in collaboration with the Departments of Physics and Biochemistry. One area of focus is model membrane studies using NMR imaging. As well, integrated with the study of the skin barrier is expertise in liposomal technology as it relates to percutaneous absorption through the barrier.

Clinical
Trials
EACH OF THE FOCUSED CLINICS is active in extensive research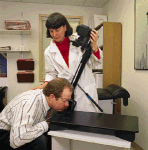 programs coordinated through The Skin Care Centre's Clinical Trials Unit. With its full-time experienced trials coordinators and dedicated clinic space, it is one of the largest university-based dermatologic trials units in North America.

Continuing Medical
Education
AS PART OF ITS MISSION, The Skin Care Centre pledges to "provide leadership in the
education and professional development of health care providers." To these ends, family physician training programs are held twice yearly. Additionally, Dermatology Update is held each autumn and is now the leading treatment focused dermatology symposium in Canada. The Division of Dermatology is also the editorial centre for the Skin Therapy Letter, Worldwide Melanoma Update, and DermWeb, our Internet Web Server.
---
Top of Document
The Skin Care Centre Brochure or Homepage
DermWeb